Description
Clamps to Casing Sizes
Shipping Weight
Assembly
Part Number
Pump-Pull Assist Assembly with Housing, Rollers & Clamping Bolt
5.625-inches (142.8mm) to 8.0-inches (203 mm)
11-Pounds (5 kg)
27-WP-PPA
140-Pound (63.5 kg) Safety Style Hammer Assembly Pin Down Connection
Assembly Weight
Assembly
Part Number
AW
190-Pounds (86.2 kg)
26001
AWJ
190-Pounds (86.2 kg)
26002
Outer Sleeve
127-Pounds (57.6 kg)
26022
Hammer Center Rod - AW
28-Pounds (12.7 kg)
26025
Hammer Center Rod – AWJ
28-Pounds (12.7 kg)
26026
Threaded Cap
14-Pounds (6.4 kg)
26029
| 300-Pound (136 kg) Safety Style Hammer Assembly Pin Down Connection | Assembly Weight | Assembly Part Number |
| --- | --- | --- |
| NW | 351-Pounds | 26022 |
| NWJ | 351-Pounds | 26003 |
| Outer Sleeve | 295-Pounds (133.8 kg) | 26024 |
| Hammer Center Rod - NW | 39-Pounds (17.7 kg) | 26027 |
| Hammer Center Rod - NWJ | 39-Pounds (17.7 kg) | 26028 |
| Threaded Cap | 17-Pounds (7.7 kg) | 26030 |
140-Pound (63.5 kg) In-Hole Style Hammer Assembly Box Down Connection
Assembly Weight
Assembly
Part Number
AW
180-Pounds (63.5 kg)
26215
Swivel Assembly
5-Pounds (2.3 kg)
26216
Bolt & Nut Set Fits Swivel Assembly
1-Pound (.45 kg)
26217
Impact Block
168-Pounds (76.2 kg)
26218
Drill Rig Make & Model
Assembly
Part Number
USExploration Equipment Company Model S-27CS
25052
USExploration Equipment Company Model S-27CRS
25051
USExploration Equipment Company Model S-27CS-T
25052
USExploration Equipment Company Model S-27CRS-T
25051
Mobile Drill Model B-53
25053
Mobile Drill Model B-57
25054
Mobile Drill Model B-58
25054
Mobile Drill Model B-59
25055
Mobile Drill Model B-61HD
25056
Mobile Drill Model B-61HDX
25056
Safe-T-Driver ® Hoist Capacity
Maximum Hoisting Speed Up 1,132 rpm
Maximum Cable Spooling Capacity
Minimum Hydraulic Operating Requirements
Assembly
Part Number
1,140-pound (517.1 kg)
350-feet (107m)
25 gpm @ 2,500 psi
7100-21012-25
Safe-T-Driver ® Assembly Components
Assembly
Part Number
Hoist Drum & Mounting Parts
7100-71026-08
Cable & Clevis for Mechanical Brake 35-feet (10.7m)
7100-050366-35
Cable & Clevis for Mechanical Brake 44-feet (13.4m)
7100-050366-44
Over-Running Clutch Assembly
7100-140592-01
Hydraulic Motor Assembly
7100-71012-31
Hoist Shaft Assembly
7100-213055
Mechanical Brake Handle Assembly
7100-216724
[top]
[top]
[top]
[top]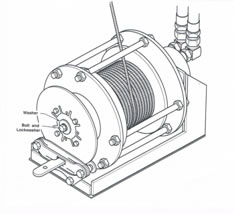 Safe-T-Driver ® Hoist with ¼-inch (6.4mm) Cable
Safe-T-Driver ® Hoists - are available from USExploration Equipment Company as an alternative to a cathead for SPT sampling operations.
The simple design allows the operator to raise and lower a safety hammer assembly 30-inches (762mm) - attached directly to the ¼-inch (6.4mm) cable that is spooled on the drum itself.
The handle at the panel allows the operator to control the lift (visually), then pull the same lever down, pushing enough oil through the system to an over-running clutch attached to the hoist drum, creating a free-fall "action" for the 140-pound (63.5 kg) weight as part of the requirements for ASTM-D-1586-99 in every state.
This same hoist can be used to "bump-out" when required, unlike other automatic or semi-automatic driving devices.
The field kit includes a hand brake when conditions require it – simply specify the rig make and model when ordering.
140-Pound (63,5kg) SPT Automatic Hammer Assembly
SPT Automatic Hammer Assemblies - are available from USExploration Equipment Company.
They give you extremely consistent and accurate Standard Penetration Test (SPT) results, meeting all ASTM-D-1586-99 requirements in every state.
These assemblies can be adapted to virtually any 5-foot stroke machine because the hammer simply swings in from a "stored" position to the "on-hole" position.
Since raising and lowering is done hydraulically, set up is quick and almost effortless.
For maximum safety, all moving parts are enclosed, including the impact area between the weight and the anvil.
Each assembly includes a Hammer Case, Slug, Hydraulic Cylinder, Hydraulic Motor, Guide and Sub.
When ordering, specify the make and model for the rig installation and hydraulic circuitry you intend to use.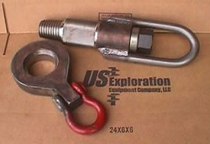 AWJ Full-Swivel Hoisting Plug (top) and AW/ AWJ Rod "Slip" Ring (bottom)
Hoisting & Rod Handling Tools for J-Series, W-Design & API style Drill Rods – are available from USExploration Equipment Company.
Full-Swivel style Hoisting Plugs and Rod (Slip) Rings are all DCDMA compatible.
When ordering, simply choose the appropriate thread style and corresponding tool for your application.

140-Pound (63.5 kg) In-Hole Hammer Assembly with Swivel and AW Box Down

140-Pound (63.5 kg) Safety Style Hammer Assembly with Cast Anvil and AWJ Pin Down
Safety Type & In-Hole Style "SPT" Drive Hammers, Parts & Accessories – are available from USExploration Equipment Company.
Typically attached to the "business end" of a Cathead Rope or a Safe-T-Driver Hoist (free-spooling) cable, these tools are designed to help the operator complete ASTM Procedure D1586-08a along with the appropriate down-hole sampling device.
This test includes lifting and (freely) dropping a 140-Pound (63.5 kg) weight exactly 30-inches (762mm) on top of 1-3/4-inch (44.5 mm) Outside diameter (AW or AWJ) Drill Rods to achieve the correct "N" value as it relates to determining material density and proper foundation design.
The 300-Pound (136 kg) version is typically used to drive Flush Joint Casing through formations that are too difficult to advance Solid Stem or Hollow Stem Augers.
The In-Hole Style Hammer works best in conjunction with a Safe-T-Driver Hoist as the 2-7/8" (73mm) OD assembly can be lowered into Flush Joint Casing or Hollow Stem Augers, to advance a Sampler, break up material that has worked its way inside the annular space or simply act as an internal cutting face in addition to the Casing Shoe or Cutter head.
When ordering, make sure you specify Safety Style or In-Hole Hammer assembly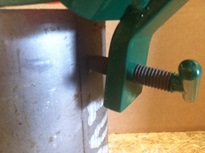 The simple clamping function allows you to adjust quickly to different casing diameters.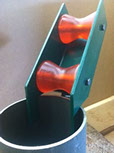 The precision machined (roller) axles assure a smooth straight pull without vibration - every time.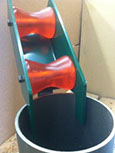 The Pump Pull-Assist clamps quickly & easily to a wide range of steel casing.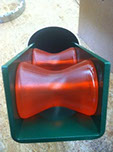 Tapered hard plastic rollers assure that the PVC, wires and pump come out of the casing easily.

Pump-Pull Assist – The Pump-Pull Assist is the simplest & most cost effective way to pull well pumps out of the ground easily and without any heavy equipment.
The assembly easily clamps to virtually any commercially used (steel) well casing allowing your team to pull the flexible pump piping over the durable built-in tapered rollers.
Its design & powder coated steel construction provide a durable, lightweight, portable solution to pulling well pumps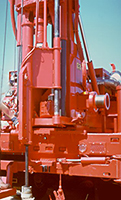 Hoisting Plug, Full-Swivel Style
with Heavy Duty Bail
Special Feature
Assembly Part Number
A Rod Pin Down
25014
N-4 Pin Down
25015
AW Pin Down
W-Design Drill Rods
25004
AWJ Pin Down
J-Series Drill Rods
25005
NW Pin Down
W-Design Drill Rods
25006
NWJ Pin Down
J-Series Drill Rods
25007
2-3/8" API IF Pin Down
Drill Pipe
25043
2-3/8" Mayhew Regular Pin Down
Drill Pipe
25040
2-3/8" API Regular Pin Down
Drill Pipe
25046
2-7/8" API IF Pin Down
Drill Pipe
25037
2-7/8" API Regular Pin Down
Drill Pipe
25047
3-1/2" API IF Pin Down
Drill Pipe
25049
3-1/2" API Regular Pin Down
Drill Pipe
25048
HQ Wireline Pin Down
Thinwall Wireline Drill Rods
25044
NQ Wireline Pin
Thinwall Wireline Drill Rods
25045
3" Double-Start Sonic Rod Pin Down
Sonic Drill Rods
300-500-113
5-1/2" Double-Start Sonic Casing Pin Down
Sonic Casing
300-500-117
7" Double-Start Sonic Casing Pin Down
Sonic Casing
300-500-123
CR-50 Pin Down
Atlas Copco – Craelius Drill Rods
25041
NQ Wireline Pin
Thinwall Wireline Drill Rods
25064-BL
PWT (RH) Casing Pin
Flush Joint Casing
25065
NW (RH) Casing Pin
Flush Joint Casing
25069
HWT (RH) Casing Pin
Flush Joint Casing
25070
NW Box
W-Design Drill Rod
25072
HQ Wireline Pin
Thinwall Wireline Drill Rods
25073
| Rod (Slip) Ring with Heavy Duty Bail | Special Feature | Assembly Part Number |
| --- | --- | --- |
| A Drill Rods | Closed | 25010 |
| AW & AWJ Drill Rods | Closed | 25008 |
| AW & AWJ Drill Rods | Open | 25050 |
| N Drill Rods | Closed | 25013 |
| NW & NWJ Drill Rods | Closed | 25011 |
| BW/ BWJ | Open | 25057 |
| BW/ BWJ | Closed | 25058 |
| EW | Open | 25063 |
| N | Open | 25071 |
| AW/ AWJ | Round x Oversized x Closed | 25076 |
| NW/ NWJ | Open | 25077 |