| Nominal Core Diameter | Open End or Solid Head | Heavy Duty (Series-70) Surface Set (Series-10) Impregnated (Series-20) | Assembly Part Number |
| --- | --- | --- | --- |
| 2-inch (51mm) | Solid Head | Heavy Duty Series-70 | TWDCB-70H-0200 |
| 2-3/4-inch (70mm) | Solid Head | Heavy Duty Series-70 | TWDCB-70H-0275 |
| 3-inch (76mm) | Solid Head | Heavy Duty Series-70 | TWDCB-70H-0300 |
| 3-1/2-inch (89mm) | Solid Head | Heavy Duty Series-70 | TWDCB-70H-0350 |
| 4-inch (102mm) | Solid Head | Heavy Duty Series-70 | TWDCB-70H-0400 |
| 4-1/2-inch (114mm) | Solid Head | Heavy Duty Series-70 | TWDCB-70H-0450 |
| 5-inch (127mm) | Solid Head | Heavy Duty Series-70 | TWDCB-70H-0500 |
| 5-1/2-inch (140mm) | Solid Head | Heavy Duty Series-70 | TWDCB-70H-0550 |
| 6-inch (152.4mm) | Solid Head | Heavy Duty Series-70 | TWDCB-70H-0600 |
| 6-1/4-inch (159mm) | Solid Head | Maroon Impregnated Series-20 | TWDCB-MS-0625 |
| 6-1/4-inch (159mm) | Open Head | Maroon Impregnated Series-20 | TWDCB-MS-OH-0625 |
| 7-inch (178mm) | Solid Head | Heavy Duty Series-70 | TWDCB-MS-0700 |
| 7-1/2-inch (190mm) | Solid Head | Heavy Duty Series-70 | TWDCB-MS-0750 |
| 8-inch (203mm) | Solid Head | Heavy Duty Series-70 | TWDCB-MS-0800 |
| 8-1/2-inch (216mm) | Solid Head | Heavy Duty Series-70 | TWDCB-MS-0850 |
| 10-inch (254mm) | Solid Head | Heavy Duty Series-70 | TWDCB-MS-1000 |
| 10-1/2-inch (267mm) | Solid Head | Heavy Duty Series-70 | TWDCB-MS-1050 |
| 12-inch (305mm) | Solid Head | Heavy Duty Series-70 | TWDCB-MS-1200 |
| Expansion Adapter Fits Barrels with Nominal Core Diameter | Thread Type | Assembly Part Number |
| --- | --- | --- |
| 2-inch (51mm) Thru 2-3/4-inch (70mm) | 1-1/4" x 7 Box | EA-70H-020 |
| 3-inch (76.2mm) Thru 3-1/2-inch (89mm) | 1-1/4" x 7 Box | EA-70H-030 |
| 4-inch (102mm) Thru 4-1/2-inch (114mm) | 1-1/4" x 7 Box | EA-70H-040 |
| 5-inch (127mm) Thru 5-1/2-inch (140mm) | 1-1/4" x 7 Box | EA-70H-050 |
| 6-inch (152.4mm) Thru 6-1/4-inch (159mm) | 1-1/4" x 7 Box | EA-70H-060 |
| 7-inch (178mm) Thru 7-1/2-inch (190mm) | 1-1/4" x 7 Box | EA-70H-070 |
| 8-inch (203mm) Thru 8-1/2-inch (216mm) | 1-1/4" x 7 Box | EA-70H-080 |
| 10-inch (254mm) Thru 10-1/2-inch (267mm) | 1-1/4" x 7 Box | EA-70H-100 |
| 12-inch (305mm) | 1-1/4" x 7 Box | EA-70H-120 |
Coring System
Material Type
Assembly Length
Special Feature
Assembly
Part Number
NX/NQ*
Pine or Plywood
4-Foot (91.2m)
¾-inch (19mm)
Thick Plywood Bottom
WCB-26226
NX/NQ*
Pine
5-Foot (1.5m)
All Pine Rope Handles
WCB-26227
NX/NQ*
Pine
5-Foot (1.5m)
All Pine 4-Row
WCB-26228
NX/NQ*
Pine or Plywood
31-1/2-inch (800mm)
Slide Top
WCB-26229
NX/NQ*
Pine or Plywood
36-inch (.9m)
Slide Top
WCB-26230
NX/NQ*
Pine or Plywood
4-Foot (1.2m)
Slide Top
WCB-26231
HQ*
Pine
5-Foot (1.5m)
All Pine 2-Row
WCB-26232
HQ*
Pine or Plywood
4-Foot (1.2m)
4-inch (102mm)
High 2-Row
WCB-26233
HQ*
Pine or Plywood
5-Foot (1.5m)
6-inch (152mm) High
WCB-26234
PQ*
Pine or Plywood
5-Foot (1.5m)
½-inch (13mm)
Thick Plywood Bottom
WCB-26235
PQ*
Pine or Plywood
5-Foot (1.5m)
3-inch (76mm)
High 2-Row
WCB-26236
PQ*
Pine or Plywood
4-Foot (1.2m)
Slide Top 2-Row
WCB-26237
NX/NQ*
thru HQ*
Pine or Plywood
5-Foot (1.5m)
Pine Top 2-Row
WCB-26238
NX/NQ*
thru HQ*
Pine or Plywood
5-Foot (1.5m)
Slide Top 2-Row
WCB-26239
Compact-Roto-Sonic or Roto-Sonic
Pine or Plywood
5-Foot (1.5m)
4-inch (102mm) High
WCB-26240
NX
Pine or Plywood
5-Foot (1.5m)
3-Row
WCB-26241
NX/NQ*
thru HQ*
Jacksonville
Treated
5-Foot (1.5m)
4-inch (102mm) High
WCB-26242
NX/NQ*
thru HQ*
Jacksonville
Non-Treated
5-Foot (1.5m)
4-inch (102mm) High
WCB-26243
NX
Jacksonville
Treated
5-Foot (1.5m)
WCB-26244
| Coring System | Outside Diameter | Inside Diameter | Threads | Assembly Length | Assembly Weight | Assembly Part Number |
| --- | --- | --- | --- | --- | --- | --- |
| NXB | 2-7/8-inch (73mm) | 2-3/8-inch (60.3mm) | 3-TPI | 5-Foot (1.5m) | 35-Pounds (16 kg) | 27162 |
| NXB | 2-7/8-inch (73mm) | 2-3/8-inch (60.3mm) | 3-TPI | 10-Foot (3m) | 70-Pounds (31.7 kg) | 27119 |
[top]
[top]
[top]
[top]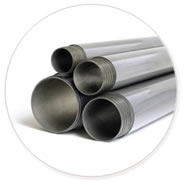 Wireline Style Drill Rod uses coarse thread design with heat treated tool joints for extended Rod life in the field
NXB Wireline Style Drill Rods – Available from USExploration Equipment Company with
3-TPI Tool Joints for use with your existing NXB-Series Core Barrel assemblies.
Simply match your Core Barrel length with your desired NXB Rod length when ordering.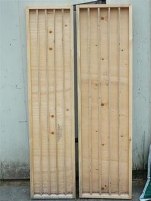 NX/NQ* & HQ* x 5-Foot (1.5m) long Wooden Core Boxes with 5-Rows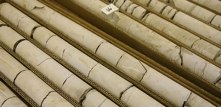 Cardboard Core Boxes (available upon request)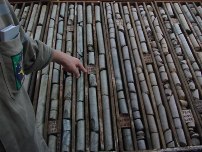 Wooden Core Boxes
Available from USExploration Equipment Company for storing and transporting your consolidated formation samples from the field to your lab or independent testing facility.
Available in multiple configurations including various lengths, lid styles, row numbers and treated or non-treated wood options – simply specify your requirements when ordering and we will make sure the right box lands on your next job site.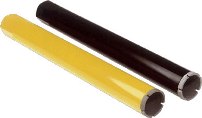 Replacement Thin-Wall Bits with Impregnated or Surface Set Diamonds
Thin-Wall Diamond (Pavement) Core Bits & Accessories –  Available from USExploration Equipment Company in the Series-70 Heavy Duty style, capable of recovering nominal cores ranging from 1-inch (25.4 mm) to 36-inch (914.4 mm) diameters.
Each disposable barrel comes equipped with the Hydra-Segment for maximum cutting efficiency in asphalt or concrete.
The Solid Head Barrels come with a 1-1/4 - 7 thread while the Open Head Barrels require an Expansion Adapter ordered separately.
The Series-70 Bits will do a great job getting that hole started through a concrete pad or other surface formations that cannot be penetrated with a Hollow Stem Auger Cutterhead.
The Continuous Crown style Surface Set Diamond (Series-10) and Impregnated type (Series-20) have proven their value in both the Public and the Private Sector.
When ordering, simply specify the "nominal" core diameter, open end or solid head and remember that each barrel is (a maximum of) 14-inches (356mm) long.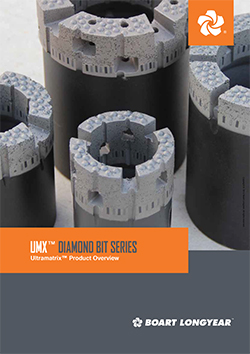 Boart Longyear Products –
Available from USExploration Equipment Company